Practical information
TRANSPORTATION
REACHING KAUNAS FROM VILNIUS AIRPORT
Vilnius airport is located 6 km from the centre of Vilnius, while train and bus stations (both of them are next to each other) are centre-located. You can use one of the options for reaching Vilnius bus or train station:
There is a direct train going frequently from Vilnius airport to Vilnius train station. To reach the train stop, follow the outside directions at the airport. The ticket will cost 1 Euro and can be purchased on the train.
You can take an Airport Express. A single-trip ticket will cost 1 Euro and can be purchased on the bus.
You can take city bus No. 1 and go as far as the bus stop "Stotis". A single-trip ticket will cost 1 Euro and can be purchased on the bus.
You can take a taxi or Uber:
TAXI: Book a taxi at: www.etaksi.lt/en. You will depart from the "Airport" stop and arrive at "Stoties" stop (the price range is 5 – 12 Euros). Take a taxi within the airport area. Straight away ask the driver for the ride price (or else you may be charged like 15 Euros!) and ask for a receipt.
BUSES: In Vilnius, at the train / bus station (the bus terminal is opposite the train station, on the left) you will take train / bus to Kaunas. Buses to Kaunas run approximately every half an hour and cost about 6 Euros. Please remember that to travel with private drivers who offer their services may not be safe. Check the bus routes and exact timetables at: www.autobusai.lt. A bus ride will take around 90 minutes to reach Kaunas bus station.
TRAIN: departures are not so frequent. A ride by train costs 5-7 Euros. You can check train routes and timetables at: www.litrail.lt
REACHING KAUNAS FROM KAUNAS AIRPORT (KARMĖLAVA)
Kaunas airport is located 15 km from the centre of Kaunas.
City buses No. 29, 29E
City bus No. 29 connects Kaunas Airport and Kaunas city. The city bus line route from City Center proceeds to M. K. Čiurlionio g. (Kaunas Train Station) – Vytauto pr. (Kaunas Bus Station) – Kęstučio g. – Vilniaus g. – Savanorių g. – Kaunas Airport.
The city bus line route to City Center proceeds from Kaunas Airport to Savanorių pr. – E. Ožeškienės g. – K. Donelaičio g .– Vytauto pr. (Kaunas Bus Station) – M. K. Čiurlionio g. (Kaunas Train Station).
If you arrive in Kaunas on a late night flight, City bus No. 29E is for your convenience. Every day the bus leaves the Airport for the city center only after the last flight has arrived. Passengers may buy a ticket on the bus. The price of a single-trip ticket is 1 Euro. You can check the bus route and timetables at: www.kvt.lt
E-tickets
Kaunas City Public transport operates using an electronic contactless card (CARD) ticketing system. CARD may be loaded with a specified amount of money or/ and a 3-, 7-, 30-, 92-day e-ticket. You can use CARD in buses marked by the KVT sign. You need to validate your CARD when boarding the vehicle.
E-TICKET TYPES: Single-trip; Periodic (3, 7, 30, or 92 days)
WHERE TO BUY TICKETS A TIP! At the Airport, e-tickets for buses can be purchased at the convenience store Narvesen located in the Arrivals section of the passenger terminal. Please inform the seller which type of e -ticket you would like to load on your CARD. If you decided to use single e-tickets, then inform the seller which amount of money you would like to load.
The local currency Euro and bankcards are accepted for payment. If you do not have Euros, you can exchange your money at a currency exchange office of Medicinos bankas at the Arrivals. Working hours of the bank accord with flight schedules.
Public transport in Kaunas
TROLLEY BUSES/BUSES:
There are 2 types of Kaunas public transport tickets:
Single-ride paper tickets. You can buy a single-ride paper ticket from the driver on a bus/trolley for 1 Euro. Paying the exact price is preferable.
Periodic electronic tickets (E-ticket). E-tickets can be bought at newspaper kiosks that are located all around the city, most often next to bus stops. Electronic tickets need not to be validated separately. There are 7 days, 1 month and 3 months validity E-tickets.
TAXI: Taxi can be hailed on the street or booked by phone. Average price for 1 km. is 1 Euro.
Playwright Jānis Balodis
Director Valters Sīlis and
National Kaunas Drama Theatre
p r e s e n t
The Forest Brother
A two-act play
Journalists of the entire world were fascinated by his story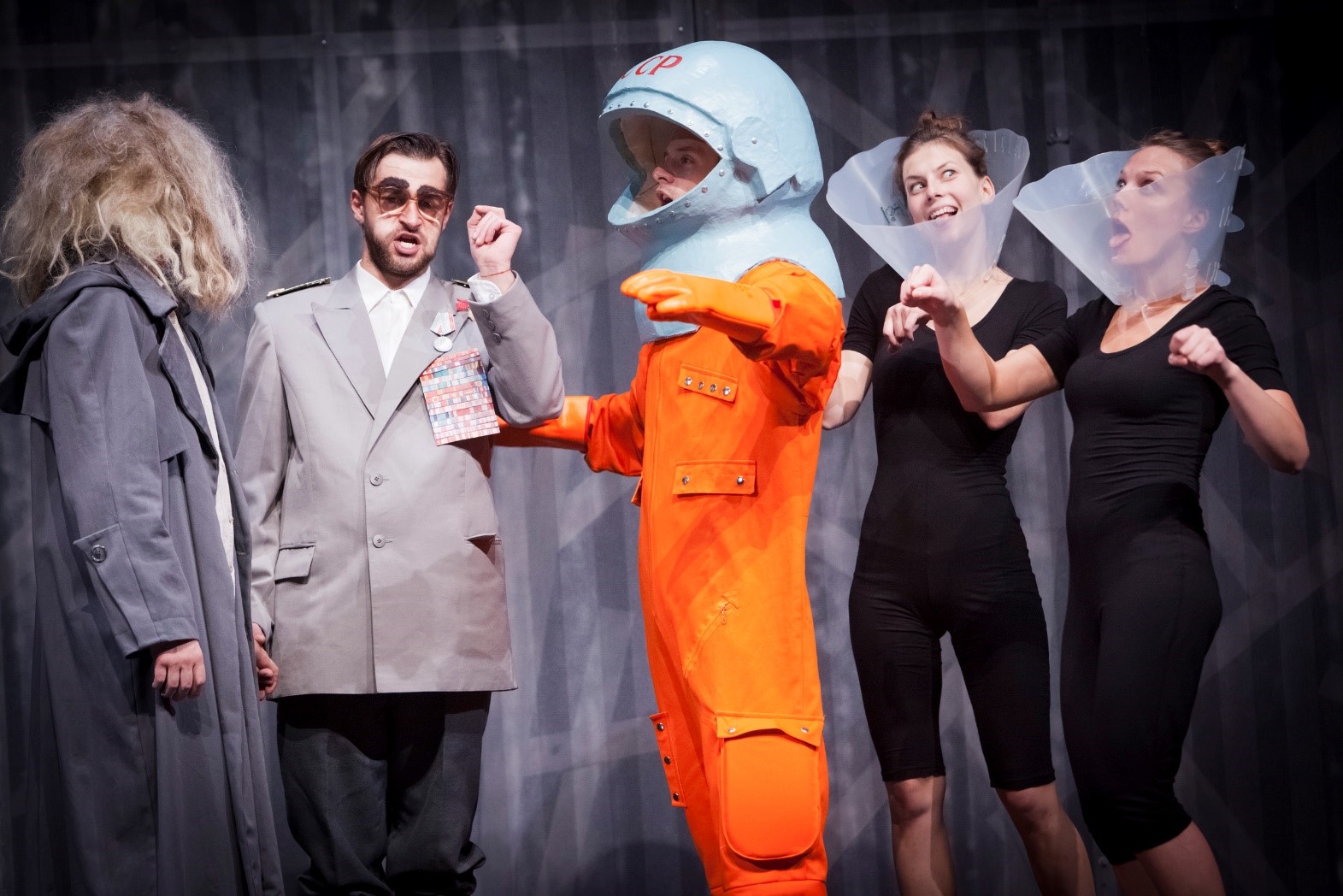 "The Forest Brother" is a performance by the Latvian director Valters Sīlis and dramaturge Jānis Balodis created in collaboration with the actors of National Kaunas Drama Theatre. It is based on a true story about Jānis Pīnups who spent 50 years, the entire period of the Soviet occupation hiding in the forest. In the performance facts overlap with fiction, melodrama and farce, reminding that no one really knows what can happen to them when war breaks out.
The performance is simultaneously interpreted into English
For more information see: http://dramosteatras.lt/en/spektaklis/miskinis-2/
For ticket reservation please contact Kristina Steiblytė kristina.steiblyte@vdu.lt until April 15th.
Ticket price 7 €